What eCommerce Platform Can You Split Revenue & Profits?
There are a lot of eCommerce platforms in the world right now, some of which stand out more than others. Probably the biggest two are..

Table of Contents
There are a lot of eCommerce platforms in the world right now, some of which stand out more than others. Probably the biggest two are Shopify & WooCommerce. But the question is, what platforms allow you to split revenue and profits with creators?
What eCommerce platforms support splitting revenue & profits?
It's quite simple, all Shopify, WooCommerce, Etsy and Squarespace have options for you to split revenue and profits with anyone. Because it's a very specific feature, you will need to use an app called CollabPay, and then connect it to your store.
How to set up CollabPay on your store:
Simply connect CollabPay to your store, invite your Collaborators, set them an earning amount, and then you're ready!
How does CollabPay work?
All you need to do is:
Sign up for CollabPay's free trial (Plans start from $15 per month for up 3 collaborators)
Connect CollabPay to your Shopify, WooCommerce, Etsy or Squarespace store
Invite Collaborators to earn from product sales using percentages or flat fees
Set up automatic payouts via PayPal or Stripe, or simply mark payouts as paid and pay your own way, such as bank transfer etc.
CollabPay works by allowing you to invite anyone who has collaborated with your store to earn from specific product sales.
This means if you created a product with a guest creator, you can assign a percentage of the profits (minus tax, shipping etc.) so they can earn from any sales of that product.
This works well for influencer collaborations, fashion brands who collaborate with influencers, vendors who create products for marketplaces and much more.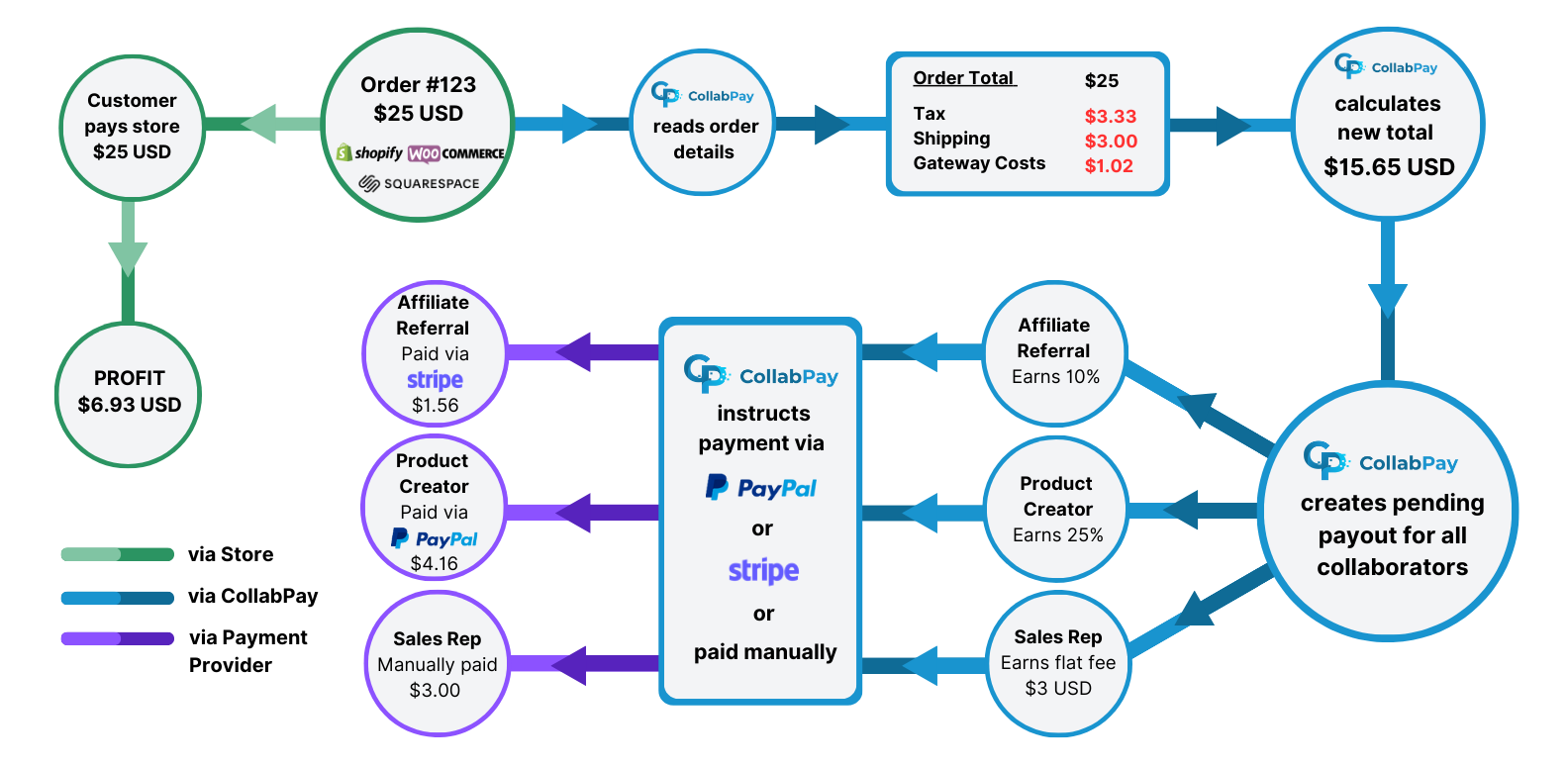 Learn more about how CollabPay works.
Which eCommerce platform should I use?
It's completely up to you, but the best one on the market is Shopify. Shopify is used by so many large brands such as Gym Shark, MVMT, and Red Bull.
But it's completely up to you which one works for you best. WooCommerce is an old method and a bit more complex because you need to set up your own hosting and security measures, whereas Shopify has everything all in one.
Why CollabPay is best for splitting revenue with product collaborators & influencers
CollabPay is easily integrated with online store platforms to allow you to assign earnings to influencers or product creators.
Benefits of CollabPay:
Avoid human error: let the software do the job perfectly, every single time
Avoid headaches: it's a pain to deduct taxes, shipping costs, discounts and much more. CollabPay can account for all of the costs and just share profits
Save time: lets the software do the job for a minimal cost, which allows you to spend more time on building your business
Save money: accountants can cost a bomb, so let the software do it for fraction of the price of an accountant
Automate everything: everything can be automated, from calculations all the way to the payouts
Pricing
| | | | |
| --- | --- | --- | --- |
| Plan | Freelancer | Startup | Business |
| Pricing | $15 | $25 | $39 |
| Collaborators | 3 | 12 | Unlimited |
| Payouts per month | 3 | Unlimited | Unlimited |
Features
Deduct taxes & shipping from the calculations so that they only earn from the profits
Remove gateway costs from calculations so that the store covers the costs
Add custom deductions to payouts in case you have paid for ads or other costs that you want to deduct from the Collaborators
Mark payouts as paid and pay them manually in your own way if you like
Works with all currencies with no limitations on the country
Works with point of sale orders
Cross-border automated payouts using PayPal or Stripe
Invite Collaborators to have their own account on your store
Learn more about CollabPay's features.
Can I easily pay influencers who have created a product with my store?
Yes, you can invite the influencer to join your store and earn from the profits of the sales!
Video walkthrough of CollabPay
Summary
If you get stuck with anything or have any questions, please contact us, and we will help you get set up with everything you need.
Happy selling!
Ready to dive in?
Automatically calculate, split & pay profits to product creators, influencers or sales reps! Start your 7-day free trial today.