Split Profits & Revenue with Product Creators on Squarespace
Learn how to split profits to your product creators and influencers using your Squarespace store.

Table of Contents
Maybe you have created products with another person or need to pay your suppliers a cut of the sales? Now you can by connecting CollabPay to your Squarespace store.
It only takes a moment to integrate and then set up your collaborators and automatic payouts.
Who will this tutorial benefit?
Anyone who has a Squarespace store and:
If you have created products with others and need to pay them their cut of the sales
Paying influencers a cut of the sales you have created together
Paying warehouses their cut of the product sales
Dropshippers that need to pay anyone that earns from the sales
Business owners their fair share of all sales
Guest product collaborators to earn from your store
Before we start
Before actually paying people, you need to decide how that will happen. It's good to follow the below step before proceeding so you can plan ahead on what you need.
Agree to a set of terms with your creators
The first step is to discuss with your partner or collaborator and see what your expectations are. It's not always a 50/50 gig, so you need to lay out the ground rules.
You can decide to split the profits based on the assets you bring to the company or simply choose a fixed flat fee price.
Once you have decided on the terms, you can follow the next steps.
How to split profits & revenue in Squarespace
1. How CollabPay works
To calculate the profits that are owed to the creators and then pay them automatically, you will need to integrate CollabPay to your Squarespace store. This connects the apps together using an API.
With CollabPay, you can set a percentage or flat fee you and your partner will earn from each sale.
Example:
For example, you can set both of you to earn 50% each from the profits while the company keeps the remainder for operations costs, such as tax, shipping and gateway costs. Or, you could even pay yourselves 45% each and leave 10% in the company account.
Automatic payouts
You can then set up automatic payouts using PayPal or Stripe in CollabPay, completely automating the whole process so that you don't ever need to do it manually again.
You can simply connect the payment gateway accounts to CollabPay that you use on your store. That means the funds that arrive from sales into those payment gateway accounts can be used to pay your Collaborators.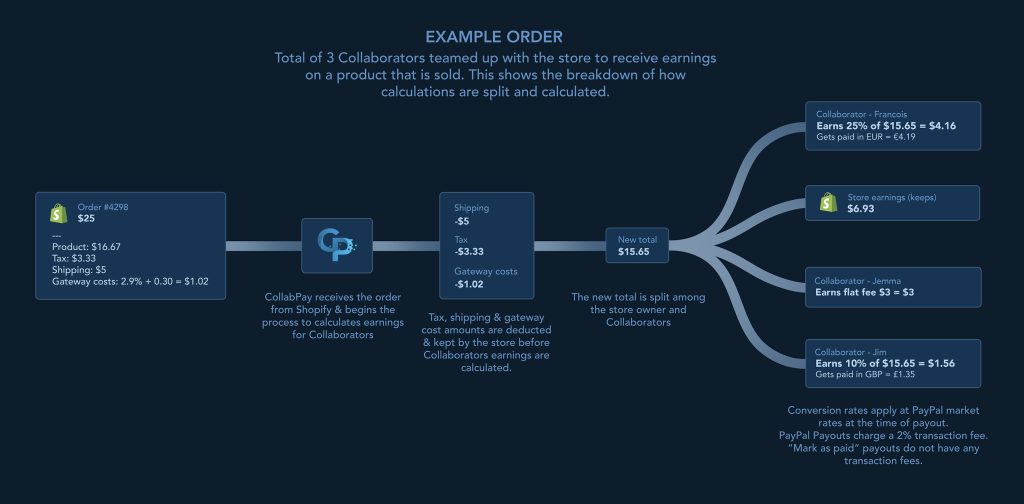 Learn more about how CollabPay works.
1.2 – Benefits of CollabPay:
Avoid human error – let the app calculate and pay
Save time from doing it yourself
Save money, rather than getting accountants to do it
Automatic calculations & payouts – no need to do anything manually
Multi-currency support
International pricing support
Cross-platform with the same accounts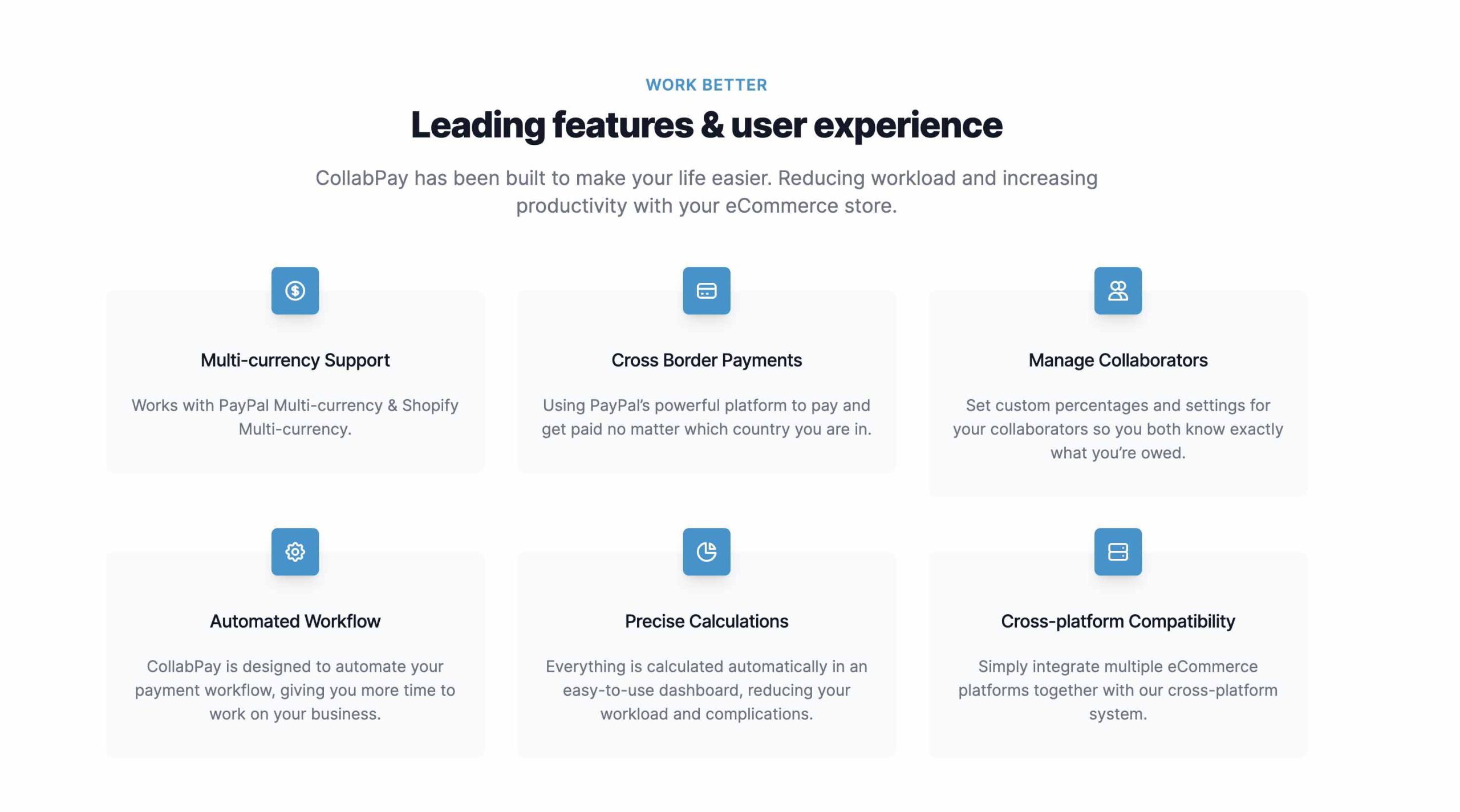 2. Integrating CollabPay with your Squarespace store
Simply go to the Squarespace integration page and click "Get started" on Squarespace. Follow the steps to integrate.
See a full guide on how to connect CollabPay to Squarespace.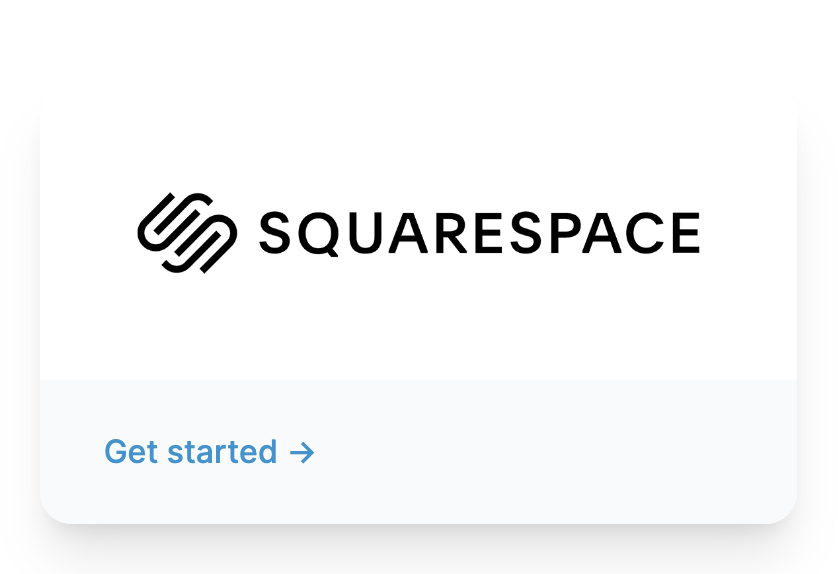 1.4 – Invite Collaborators
Load up CollabPay.app and log into the dashboard
Go to the "Collaborators" page
Click the "Invite Collaborator" button
Invite your Collaborator (partner, vendor, or even yourself)

1.5 – Connect the Collaborator to products to earn
Go to the "Collaborators" page
Click on the Collaborator's name
Click the "Connect to products" button in the bottom-right
Assign the Collaborator to earn from selected products and assign them an earning. For example – 50% of the selected product's sales
1.6 – Set up automatic payouts
CollabPay has multiple payout methods:
Manual payouts using the "Mark as Paid" button on the payouts page, then pay your own way
Automatic payouts using:
1.7 – (Optional) Customise your settings
Now you can customise your settings, such as:
Learn more:
Benefits of using an app for splitting profits & revenue
There are many reasons why it's best to allow an app to calculate and send payments automatically. Here are some obvious reasons why it's a good route to go:
Avoid human error
Perfect calculations every time
No headaches doing it yourself
Save valuable time and work on things you love more
Easily trackable
Trustworthy
Cheap compared to paying accountants for payroll
What platforms does CollabPay work with?
Currently, it's only available on Shopify, but they're working on new integrations with the biggest eCommerce platforms such as Etsy, Amazon and Magento. This means that you have an easy management system on any eCommerce platform.
Example of how CollabPay works
You can decide if you want payouts to take place daily, weekly or monthly, it's up to you as a store owner. To keep transactions down for splitting payments, I would suggest doing it monthly. Saves your accountant from going through more work.
Split profits example:
If the store owner decides to collaborate with someone to create a product, there are going to be costs involved. I will show you an example below if we have the settings set up to deduct the cost of goods before the split takes place:
Sale price: $50
Discount: 10%
Tax: $10 (20% VAT rate)
Shipping: $5
Share: 20% to the collaborator, 80% to the store owner
Total the collaborator gets: 50 – 10 – 5 – 5 = 30 profit. Then 20% of 30 = $6
Total the store owner gets: 80% of 30 = $24
CollabPay can automatically calculate these deductions before the percentage split is calculated. But it's up to you if you want to deduct these costs or not. You can change this in the settings.
Settings you can change:
Tax: You can allow the commissions to be calculated before or after the tax has been deducted from the total
Shipping: You can allow the commissions to be calculated before or after the shipping has been deducted from the total
Gateway costs: Allow gateway costs to be deducted from the earnings
Pricing & features:
| Business plan | Startup plan | Freelancer plan |
| --- | --- | --- |
| $39/month | $25/month | $15/month |
| Unlimited Collaborators/vendors | 12 Collaborators/vendors | 3 Collaborators/vendors |
| Unlimited Payouts per month | Unlimited payouts per month | 3 payouts per month |
How many collaborators can we have on a single product?
You can have as many as your plan allows and as long as you assign the right percentage between them. For example, 100% can only be split into a number of chunks.
You could have 20 collaborators on a single product if you wanted, with each one getting 5% of the sale. You would just need to keep in mind if there are shipping charges and tax rates to account for.
Video walkthrough of CollabPay
This is a video of it being connected to Shopify, but it works the same way. It will give you insight into how the app works.
Ready to dive in?
Automatically calculate, split & pay profits to product creators, influencers or sales reps! Start your 7-day free trial today.